I am a bit late with this post. The book launched two weeks ago.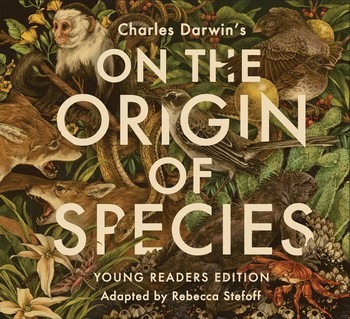 Reviews so far have been great, I'm happy to say. Publishers Weekly said: "This attractive, oversize adaptation of Charles Darwin's classic work of science has been shortened, updated, and streamlined for clarity and readability… Vocabulary words appear in bold throughout the text, while sidebars and supplemental sections delve into related topics… Bright photographs and illustrations of plants, animals, and habitats provide an expansive and inviting visual element. With valuable modifications and enhancements, Stefoff preserves the richness of Darwin's content for contemporary young readers." [my excited boldface]
Kirkus said: "The bible of evolution theory—condensed, glossed, furnished with updates, and enlivened with vivid photos and images… Big, bright nature photos or period engravings and paintings on nearly every large spread… Stefoff's frequent glosses and boxed side essays unpack major concepts, add historical context, explain how later scientific discoveries modify or support Darwin's broad picture, and even studiously point out where the author went wrong… handsomely presented and so close to the source… a glossy edition of one of science's most fundamental works."
The full title is Charles Darwin's On the Origin of Species: Young Readers Edition, published by Atheneum Books for Young Readers, a division of Simon & Schuster. Available now from amazon.com and the other usual sources. If you know a young person who is interested in nature or science, or if you've ever wished for a shorter, streamlined, illustrated version of the Origin to read for yourself–here you go!