Books for Young Readers

Click on over to this site for information about my many, many nonfiction books for teens and young readers.
Early Nonfiction
Here are a few books I published early in my career.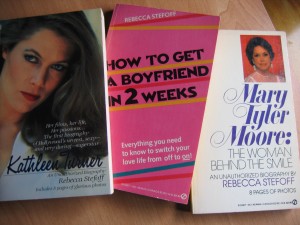 Don't think that I woke up one morning with a burning desire to write a celebrity biography. Or a candy-pink book full of romantic advice for lovelorn teenage girls. These books were dreamed up by packagers, who hired me to write them.
I was brought in to write How to Get a Boyfriend in 2 Weeks at the last minute, after the original author bailed on the project and went to India to find herself. At least, that's what I was told. Maybe she really tied a couple of bales of back issues of Seventeen to her ankles and walked into a swamp. Before long, I was ready to join her. Last I checked, that book was selling online for $2. I think I got a little more than that for writing it.