I'm the author of a great deal of nonfiction for young readers. Many of my books have been used in classroom study, and most appear in school and public libraries. Audiences range from upper elementary school through high school and college.
Adaptations
In recent years I've been busy turning bestselling or important nonfiction books for adult audiences into versions for young readers. It has been a privilege and a pleasure to be invited to adapt books written by scholars and thinkers such as Howard Zinn, Jared Diamond, and Charles Darwin, bringing their ideas and voices to new audiences. You can find information about my adaptations here.
Biographies
My nonfiction career has included researching and writing biographies of well-known or important people, again for young audiences. I've been amazingly fortunate to get to write about the lives and work of some people I greatly admire, such as Stephen King and Charles Darwin. Here are my favorites among the biographies I've written.
Original nonfiction
In the course of my writing career, I've researched and written new books for young readers on topics ranging from nature to science to social movements to the history of exploration. One great side benefit of all this work is that I know a lot of trivia. Here are a few of my favorites.
Early Nonfiction
Just for chuckles, here are a few nonfiction books I published very early in my career.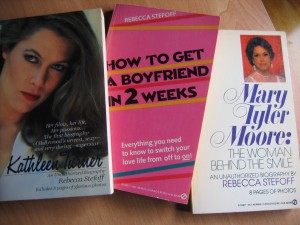 Don't think that I woke up one morning with a burning desire to write a celebrity biography. Or a candy-pink book full of romantic advice for lovelorn teenage girls. These books were dreamed up by packagers, who hired me to write them.
I was brought in to write How to Get a Boyfriend in 2 Weeks at the last minute, after the original author bailed on the project and went to India to find herself. At least, that's what I was told. Maybe she really tied a couple of bales of back issues of Seventeen to her ankles and walked into a swamp. Before long, I was ready to join her. Last I checked, that book was selling online for $2. I think I got a little more than that for writing it.