This year fall, my favorite time of year, coincides with the start of what I know will be one of my all-time favorite writing projects.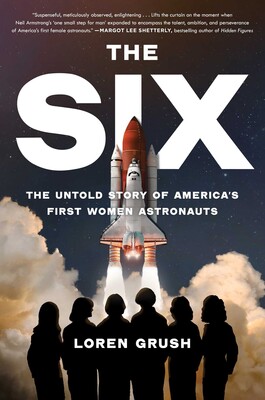 I've loved space ever since I was a kid lying in our front yard at night, gazing up at the Milky Way. My parents patiently listened to me chatter about the solar system and bought my first telescope when I was about eleven. I went on to become a reader and, for a time, a teacher of science fiction. I never dreamed of becoming an astronaut, but I followed the flights of cosmonauts and astronauts with much interest–especially those of the first Russian and American women in space. That's why I'm beyond thrilled to be adapting Loren Grush's fine new book The Six, about the first half-dozen American woman astronauts, into a shorter version for middle-grade readers.
The Six covers the women's early lives, how they became interested in and eventually joined the US space program, and what each of them contributed. It also makes painfully clear the obstacles that women had to overcome to take their place in space exploration. I look forward to spending autumn working with this absorbing book and sharing these women's stories with young readers. The adaptation will be published by Atheneum Books for Young Readers, an imprint of Simon & Schuster.
But wait, there's more! I also had the privilege this year of adapting David Barrie's 2019 book Supernavigators, a fascinating look at how we have learned what we know about animals' remarkable feats of navigation. The illustrated adaptation for young readers will be issued by Tra Publishing. I'm especially happy to have included the amazing journeys of spiny lobsters, who trundle for great distances, head to tail in long lines, over unfailingly straight paths across the dark sea floor. The clever experiments of the researchers who investigated these and other animal navigators are as surprising and entertaining as the animals' journeys themselves.