And by "we" I mean historian Howard Zinn, scholar and educator Ed Morales, and, to a much lesser extent, me.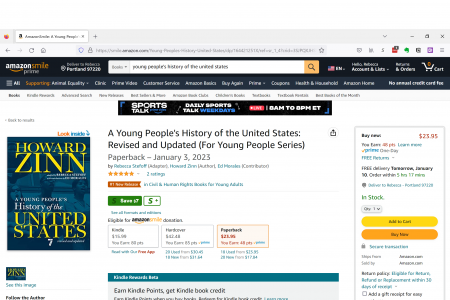 The late Howard Zinn published the indispensable A People's History of the United States in 1980 and updated it in 2003. A few years after that, with Howard's encouragement and support, I had the great honor and pleasure of adapting the book for young readers. The Young People's History of the United States was published in 2007 and has remained in print ever since. It's deeply gratifying to know how many young people it has introduced to Howard's important work.
Earlier this month, Seven Stories Press released a new edition of the Young People's History. The text was updated to reflect the language we now use when talking about various groups within the American population. Ed Morales contributed two new sections that greatly expand coverage of the histories and roles of Latino immigrants and their descendants in the United States. Finally, I added new material on Asian American activism and on today's young activists and their causes.
Helping to make Zinn's work accessible to young readers has been an extraordinary privilege. I'm delighted to see this new edition of the Young People's History already making a mark. I'm even more excited to report that a Spanish-language version of it will be published later this year.