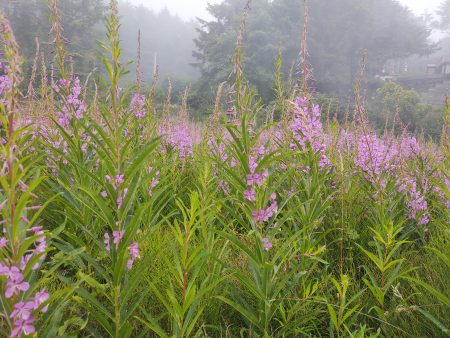 This past week brought a heatwave to Portland, with multiple triple-digit days. We were lucky to get away to the central Oregon coast for part of it, staying in a beach house south of Newport generously offered by Z's cousins. The misty scene above is the path through a meadow to the cool, foggy beach on the afternoon of our arrival. I was ecstatic.
The next day, we drove south along the coast as far as Florence, pausing at many viewpoints and waysides to walk on or just gaze out across the beach. From Waldport we headed inland and up into the hills for an hour or two of forest scenery.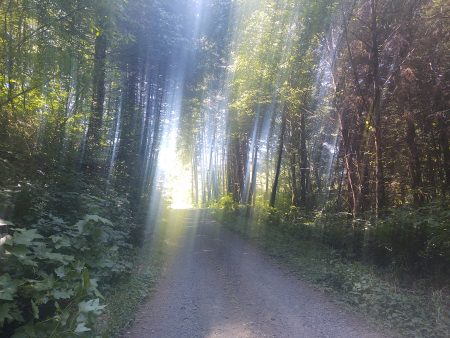 In addition to delicious seafood, good sleep, and air so delightfully cool that I wore a light fleece jacket one evening, the trip included a stop at one of my favorite coastal spots, Darlingtonia Natural Site: a bog packed with insectivorous plants.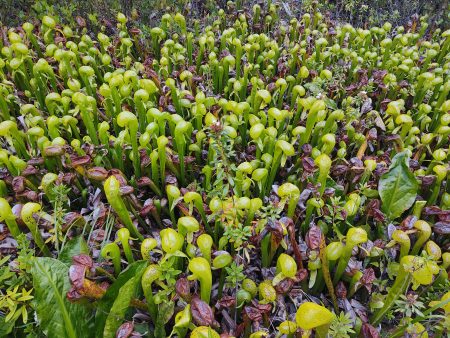 It was painful to drive back and see the car's external temperature indicator rise from 65 at the coast to approximately 9,000,000 when we reached the surface of the Sun–er, the Willamette Valley. But the excursion was a welcome reminder that one of the things I love about living in Portland is that the ocean is only 90 minutes away.