We got home last evening from our second multi-day excursion of the pandemic era, and it was swell. Among the highlights (details below) were the fulfillment of a lifelong optical-phenomenon goal and the cutest wildlife experience ever.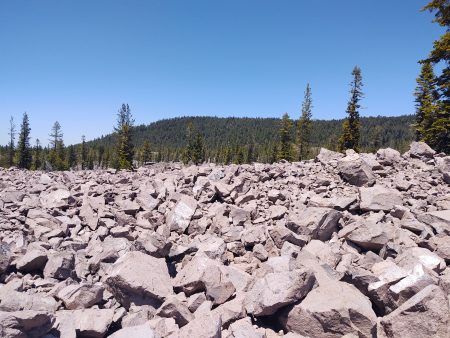 Even before the pandemic, it had become a challenge for both Z and me to be away from home at the same time. Our ageing cat, dear Xerxes, gets medicated twice a day and hates to be alone, but alas, a couple of years ago our longtime cat- and house-sitter moved two hours away. She became briefly available last September, so Z and I rolled the Covid dice and chanced a three-night road trip to the Wallowas, which we loved. A few weeks ago we learned that she'd be available again for four nights in June. We jumped on the chance.
We drove south on I-5 to Roseburg and took the North Umpqua Scenic Byway (otherwise known as Hwy 138) to Diamond Lake, just north of Crater Lake. We spent our first night at the DL Resort. On the evening of the second day we drove from Crater Lake National Park southwest to Redding along the Volcanic Legacy Scenic Highway, passing just north of Mt. Shasta. After a night in Redding we hastened to Mt. Lassen Volcanic National Park and spent an entire day there, ending up at Z's stepsister's house 90 minutes away. We spent our last two nights there and drove home yesterday, breaking the eight-hour drive with an all-too-brief visit with Z's cousins in Ashland. Xerxes and our recent addition, Xanthe the Speckled Menace (a young Bengal cat), were in fine fettle when we arrived and seemed barely to have noticed our absence, which speaks well of our sitter.
Highlights:
* Green flash sunset at Crater Lake. We watched a nearly fluorescent sun set behind the rolling hills west of the lake. As the last bit of it sank below the horizon, we saw the green flash. It was yellowish-green, almost chartreuse. I was thrilled. I have long wished to see this phenomenon but even on a long sea cruise never had the luck. So that was pretty damn cool.
* Babies in ground squirrel town. Ground squirrels scampered everywhere around the Diamond Lake Resort. The lawn leading down to the lake had a patch of burrows like a miniature prairie-dog town, with squirrels popping up and down, grazing in the grass, and standing sentry. Then we saw two squirrels bring up their young, who were about as big as my thumb. There were half a dozen of these little ground squirrels altogether. They frolicked and played like puppies, running up a little sand hill and rolling down, piling onto and chasing each other. I didn't try to use my crappy phone camera because I didn't want to disturb them.
* Half a dozen good hikes, some of them short but steep. One benign walk took us to the famous Bumpass Hell in Lassen NP.
* Watson Falls, at 293 feet the highest in southwestern Oregon, and Clearwater Falls, where we saw a lot of American Dippers (sometimes called water ouzels). These were not my first Dippers, but it was the first time I'd seen such a close, clear, and protracted display of the bobbing movement that gives them their name.
* Geological phenomena at Lassen, including Quenched Blobs and the Chaos Jumbles. My next band name. . . .