Even though we recently had a fantastic five-day excursion to Crater Lake and Lassen Volcanic National Parks, our lust for road-tripping wasn't sated. When our cat-sitter again became available for three days and two nights, we loaded up the Outback and headed for Oregon's magnificent coast, planning to focus on the southern stretch, which we have driven along but never explored.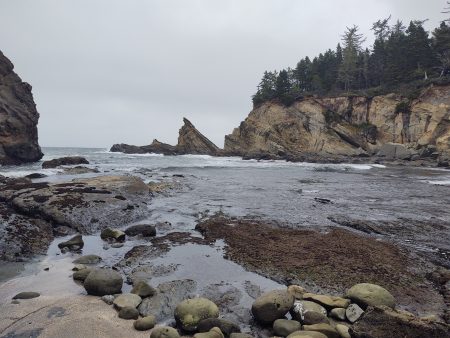 Our itinerary was perhaps over-ambitious for a three-day round trip from Portland that would be spent largely on the winding Pacific Coast Highway, for we wanted to squeeze in a visit to our favorite redwoods in Jedediah Smith State Park near Crescent City, across the California border. Reader, we did it. The dreaded weekend traffic on the PCH never materialized, the weather was deliciously cool, and we revisited a few old friends, such as Cape Perpetua, and made a lot of new ones. 804 miles well spent. We need to get to the south coast again soon!
Highlights included:
The best fish and chips (albacore tuna) at South Beach near Newport
Lovely beach walks at Seal Rock, Beachside, Bullards, and more, and a few short hikes on the Oregon Coast Trail
A tranquil, fragrant grove of myrtlewood at Humbug Mountain State Park south of Port Orford
Shore Acres State Park on Cape Arago, with its gorgeous botanical garden and a short walk down to geologically fascinating Simpson Beach, pictured above (hat tip to Wendy Wagner for turning me on to this place)
The windiest walk either of us has ever had, out to the lighthouse on Cape Blanco: sunny, incredibly windy, and glorious
Delicious oyster stew in Bandon
Zachary's creation of the song title "The Devil You Know and the Six You Don't" as we drove the Seven Devils Road
Every single wayside, park, and viewpoint in the scenic Samuel Boardman Corridor between Brookings and Gold Beach
The Howland Hill Road and Stout Grove in Jedediah Smith SP
AND we saw a wild bobcat bound across a quiet gravel road!