I kind of fell in love with LA this time around.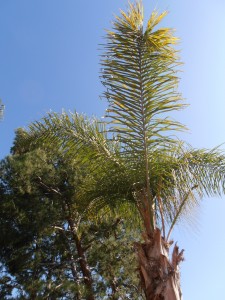 Zachary and I returned on Wednesday from a few days there.  The trip was his idea, inspired by (1) the massive art event known as Pacific Standard Time, and (2) $40 one-way fares between Portland and Santa Ana.
We spent the first night at the at UC Irvine in the late 60s, when people like Chris Burden were doing insane, amazing stuff. We also spent time with our friend Magda and had dinner one evening with one of Z's old friends from his LA years: a woman he hadn't seen for twenty-five years. Her husband and I were vastly entertained and slightly aghast at their reminiscences about those addled times.
I've been in LA before, but this time I really loved it. The weather was perfect: mild temps, blue skies, and one rainstorm that didn't interfere with our activities but scrubbed the air until it sparkled. Another benefit was that Z, who lived there for seven years and knows his way around, did most of the driving. All in all, I wouldn't want to live there, as they say, but it's a great place to visit. We'll go back when we can catch another bargain fare.